The outdoor adventure knife, entirely re-imagined.
The Redstone is designed to be a compact and lightweight outdoor knife that you'll bring along anywhere the trail may take you. With our new island design concept, the Redstone allows for a finger to rest between the islands, providing superior grip, especially for a smaller knife. The Redstone is built around a one-piece die-stamped chassis which makes it incredibly strong, reducing the overall number of parts. The Redstone features our TJB Slide-Lock design for secure lock-up and easy one-handed use. The Redstone features a Sandvik 12C27 stainless steel for high corrosion resistance and great edge retention and has our very first bent-wire clip, it's the lightest and simplest clip possible.
Product details

Adventure Ready

Compact, but full-featured. The Redstone packs a bunch in a small package that you can fit nearly anywhere.

Blade Options

Available in both straight and serrated blade options.

Slide Lock Design

Leverages the TJB Slide-Lock design for secure lock-up and ambidextrous use.

Wire Clip

Our first formed-wire clip design
All day, every day.
We make knives and tools for people who live adventurously - for people like us. For those who aren't content consuming other people's stories, and who don't wait around for other people to fix things. We're with you, from the pocket to the hand, and back again.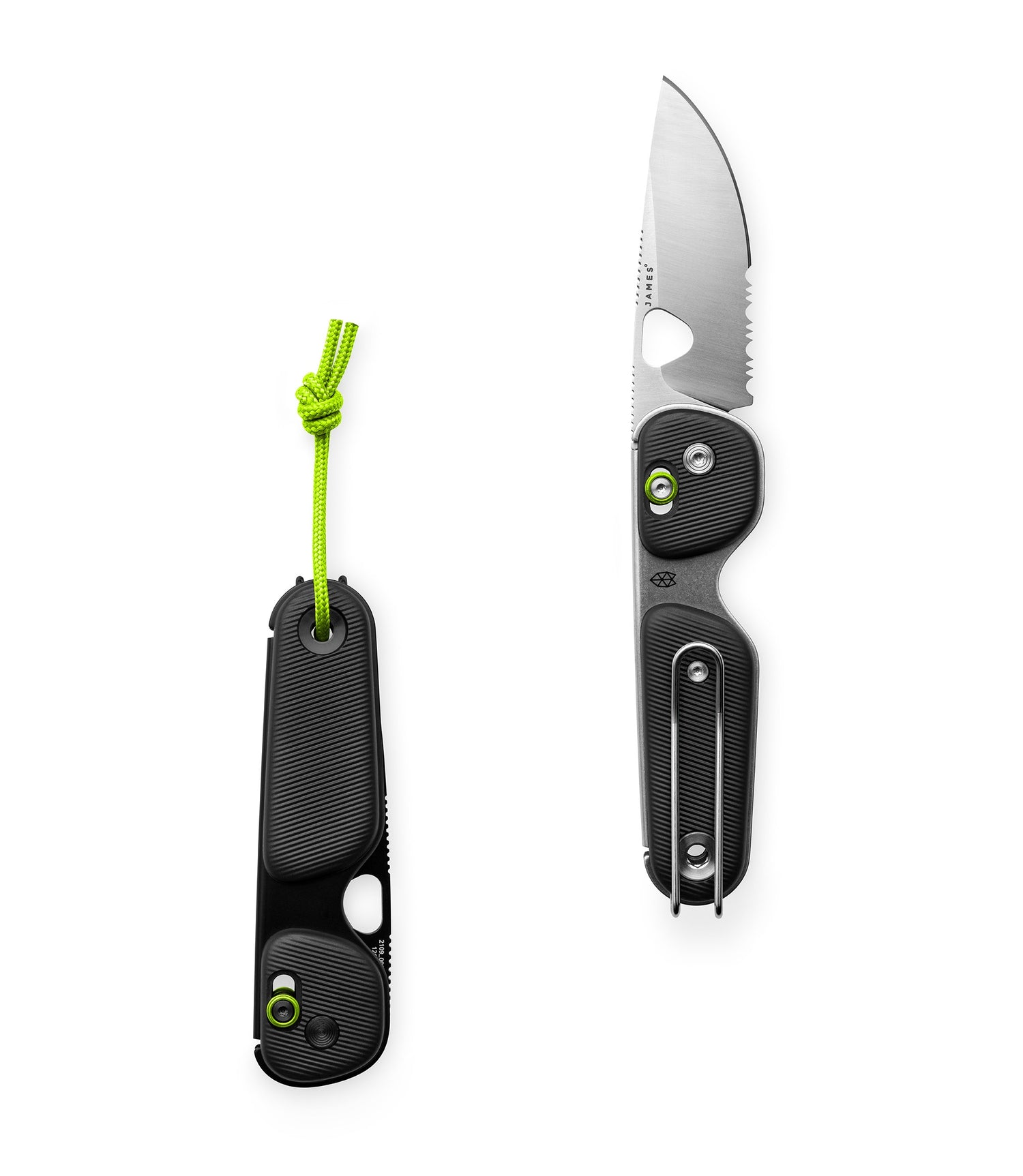 Sandvik 12C27 stainless-steel blade
6.2" overall length
Island grip design
Inspired by climbing holds
Made to go anywhere.
Everyone in the backcountry needs a pocket knife, but there are few that you can both trust and blend seamlessly alongside the rest of your gear. The opportunity we saw with the Redstone was to make a small, lightweight knife that you could toss in your pack and basically forget about (until you really need it), but that had more premium materials, and was full-featured. The Redstone features our very first formed-wire pocket clip, a hand-hold grip design, an ambi-dextrous slide lock mechanism, and a partially serrated blade.
The outdoor adventure knife, entirely re-imagined.
The Redstone looks different because it is different. We created a one-piece chassis design that allowed us to minimize parts and keep out dirt and grime, while providing the structure required for the mechanism and grips. It can be fully-operated (both opened and closed) with one hand, and has a slide-lock mechanism, meaning that it's extra secure when opened, but still easy to unlock and close with one hand. The Redstone uses our very first bent-wire pocket clip– one of the very lightest and most functional clip designs out there. It also comes with a lanyard, so that you can deploy it easily or clip it to other things. Add in a partially serrated blade ready to cut or rip, and the Redstone really is the full package.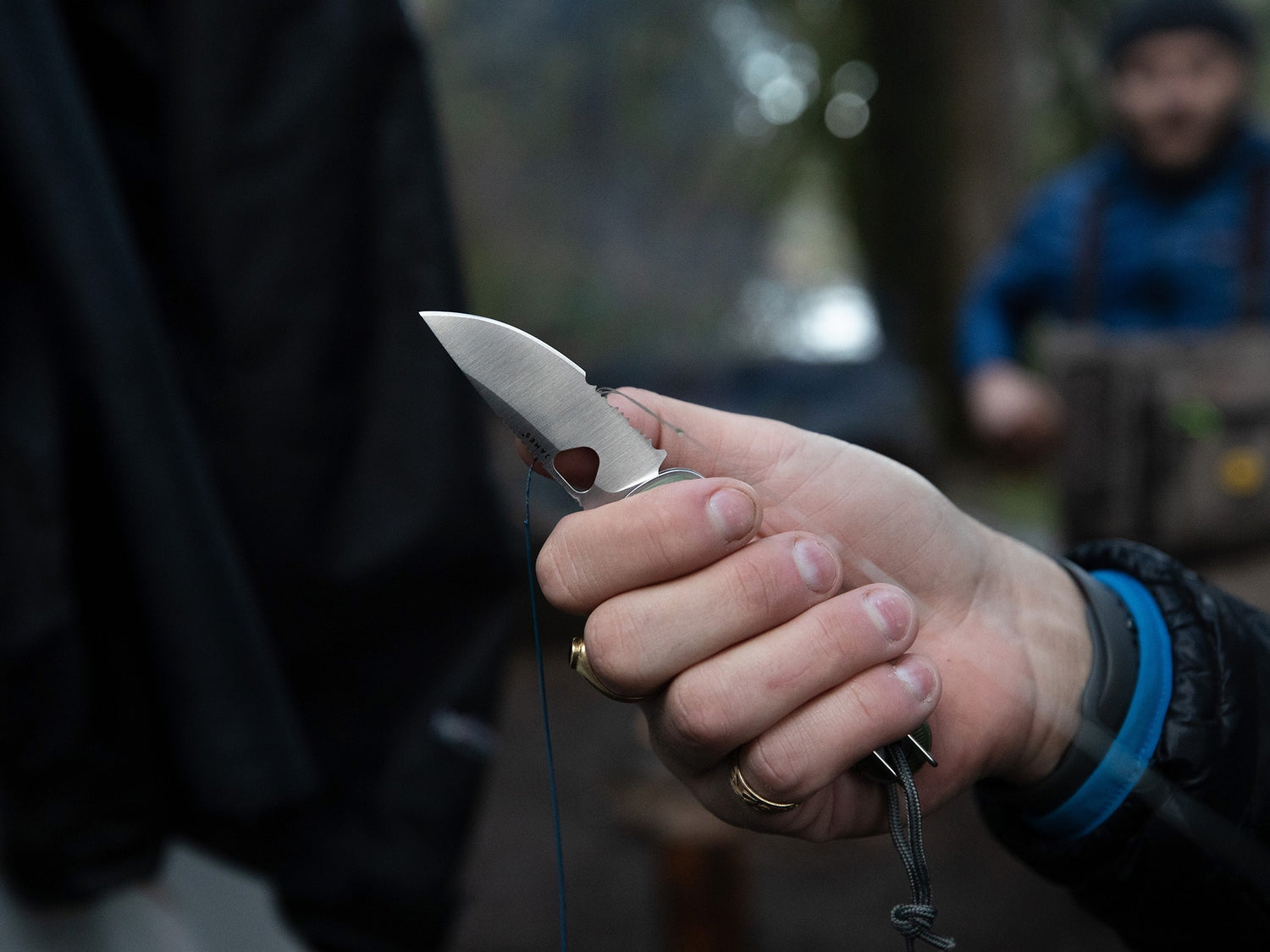 Made for this.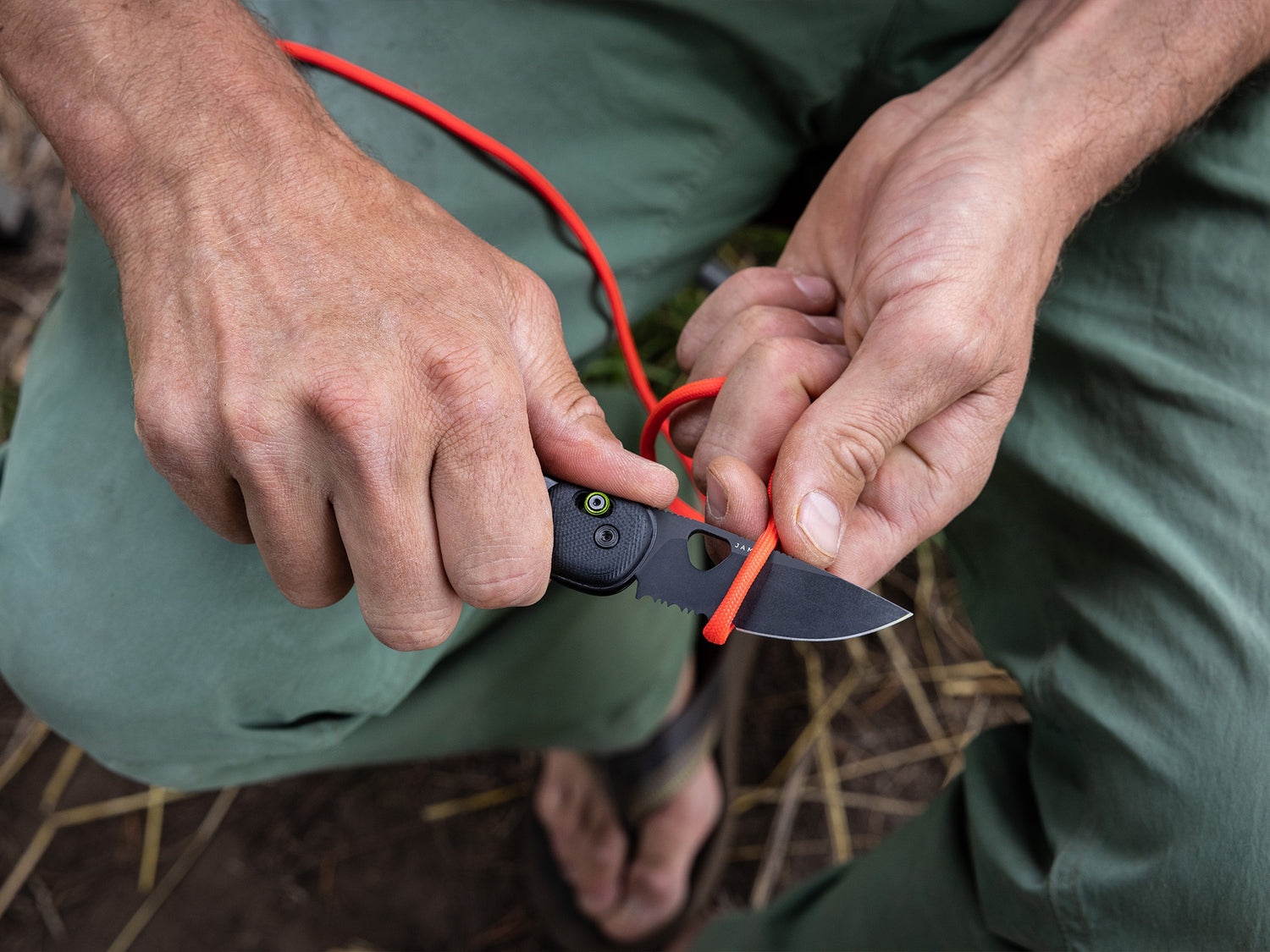 Made for that.
Designing the Redstone.
We developed the Redstone with professional rock climber and photographer Savannah Cummins. She gave us a great insight; there are always three things in the top of her pack: a Bic lighter, some lip balm, and a small pocket knife. The thing about a pocket knife is that you never know when you are going to need it, but when you need it– you really need it. No other tool will do the job. Making one that is small enough to make the cut when you are packing your gear, but useful enough for hard and repeated work is a difficult undertaking. That was the mission of the Redstone.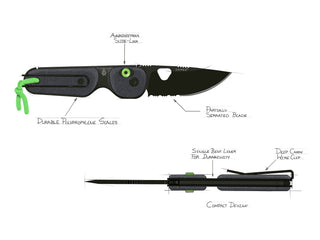 An idea worth holding on to.
Savannah is a rock climber, and rock holds, especially those inside climbing gyms have a very particular set of forms that are designed to maximize grip and surface area for fingers. This was our second insight. Grip on pocket knives is always an issue; imagine the consequences of dropping your wet pocket knife from a rock outcropping hundreds of feet off the ground. Could we use the concept of "holds" to make a small knife with great grip?
This "hold" concept gave us the chance to have some more fun with color, as that is always one of the things that is challenging in the pocket knife space: the general materials palette doesn't allow for much exploration, but injected "holds" could really open things up.
The Redstone
See it in Action
Total 5 star reviews: 159
Total 4 star reviews: 13
Total 3 star reviews: 5
Total 2 star reviews: 7
Total 1 star reviews: 2
92%
would recommend this product
Customer-uploaded media carousel. Press left and right arrows to navigate. Press space or enter to open more details.
Slide 1 selected
Bada$$

Superfunctional. Yes, 6' tall male you can flip this open with your thumb. The lock is fantastic, and the colors are awesome. Bought it with the Timex. Love them both.

Love it

This is my third James Brand knife and my second Redstone. I got the straight edge stainless and black. I love it even more than my other Redstone. Have you ever thought of a XL Redstone?

A high-quality and small EDC with good ergonomics

The James Brand Redstone EDC is a very sharp, high-quality small knife for light EDC tasks. It came nicely packaged in a box with a decal, attached short lanyard, and a limited lifetime warranty/cleaning/care brochure. The blade is sharp out-of-box, and the deployment is smooth. The "Axis" lock seems solid as well/. Overall, a comfortable knife to use for light EDC tasks, and I recommend it!

DW

Amazing…as expected from TJB!

Just an excellent EDC in a compact package. I have average sized hands (large glove) and the Redstone fits nicely in my hand and is easy to flip open with my thumb. The balance is perfect. Blade retraction is one handed as well (with some practice) by thumb and forefinger on the release and other fingers pulled back to the grip, tilt slightly and the blade drops to the closed position. Design, fit, and finish is just as you'd expect…perfect. I originally planned on removing the cord, but it is handy and perfect for pulling from my pocket. With the textured grip and tight clip, the knife stays in place well but can be a little more difficult to pull from some of my pant pockets. The cord fits the bill for quick removal. Thank you TJB.

Great Concept.

The Redstone is a great concept in the right hands. However, since I have XL/XXL size hands, this isn't the best for me.

Negatives: size and the aluminum frame hurts my index finger when using the knife for more than one cut. It feels like it is digging in to my finger.

Positives: "axis" lock, styling, color options and blade steel. The Sandvik 12C27 has a corrosion resistance close to a LC200n which is great for anyone working around water.

This knife would be great for anyone with smaller hands or if you live in an area where blade length is an issue. For now, this knife is getting attached to my backpack to have a dependable steel when out and about.
Reviews Loaded
Reviews Added